WELCOME to the website of the Charlevoix County Democratic Party.  We're here to help you stay informed, take action, contribute, participate in the political process, and make your voice heard.
You Asked: Donating by Check
Want to make a donation to the Charlevoix Dems?  Click Here
Local Politics
All politics are local. Local gerrymandering and extreme politics in primaries have produced the unthinkable — state and national elections that don't represent the wishes of the majority.  Get involved — you CAN make a difference. And have fun at the same time.  Call or email and we'll get back to you.  Or Click Here to let us know how you would like to help.
We are also looking for a Volunteer Coordinator. Volunteerism is the backbone and strength of the Charlevoix County Democratic Party.  Volunteers are the most important resource we have to help us accomplish our ultimate goal of electing Democrats.  The Volunteer Coordinator works to match the needs of the party with the skills and interests of volunteers.  Email us at democrats.charlevoix@gmail.com
Upcoming Events
Wednesday, March 22
What:        Membership Meeting
Date:         March 22
Time:         6:30 – 8:00 p.m.
Location:  Charlevoix Library Community Room
Join with fellow Dems to  share information and skills needed  to organize, take action, and create change though resistance and citizen advocacy.
We will:
Talk about the best ways to contact our elected officials
Share resources for action
Learn how to join existing resistance groups or form one of your own
Learn how to identify fake news
We will also look ahead to the 2018 election and discuss the actions planned for this summer to give us jump-start for this critical election.
Light refreshments will be served. Please RSVP by March 20 to assist in planning for seating and refreshments.
RSVP to:
democrats.charlevoix@gmail.com 
Tuesday, March 28
The Progressive Women of Charlevoix County are meeting for an informal, social lunch on Tuesday, March 28th at the Walloon Junction Bar at 11:30.  All progressive women are welcome!
Please RSVP by Monday the 27th at noon by e-mailing democrats.charlevoix@gmail.com
Tuesday's at Bergman's Office – 10:30a
1396 Douglas Dr.
Suite 22A
Unit 101
Bring signs and be prepared to share with Bergman's staff your concerns about ACA, and the need for an independent investigation into Trump's Russian connections and tax returns.  Bring your phone to take pictures for facebook, webpage, etc.
Parking:  Park in a side lot.  NOT in front of an office building.  We are allowed there as long as we do not impede business owners from conducting their business.
Drive south on Garfield past Hammond and past Birmley Rd.  Turn right at/on Ashland Park and then immediately right again onto Douglas Dr.
Please note, Bergman is not expected to be at his office. This is a continuation of our regularly scheduled – Tuesday's at Bergman's office – organized by Indivisible groups in the area.
Past Events:
Bergman Rally
Roughly 110 people, representing 11 different District 1 counties, attended the Rally outside the Perry hotel today as Congressman Bergman was inside speaking to the Chamber of Commerce.  At least another 30 of "ours" were inside at the luncheon.  Thanks to all for your energy, enthusiasm, and great signs!
Marches Around the World!
Thank you to the millions of people around the world who, on January 21, came together to raise our voices. But our march forward does not end here. Now is the time to get our friends, family and community together and MAKE HISTORY.
Join us in launching a new campaign:  10 Actions for the first 100 Days.  Learn More
March in Traverse City: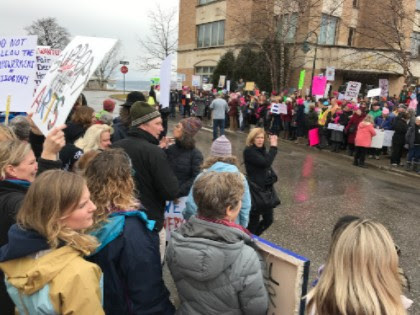 Here are a few things you can do right now to turn this energy into action.
1.  Join our Legislative Watch group.  This is an email group of Charlevoix Dems who are willing to call and/or send emails to both our State level representatives and our Federal representatives about impending legislative action.
2. If you haven't heard of the Indivisible group, check out their website.  This group was started by former congressional
aides and they provide effective, practical steps that can be taken to influence our representatives.   To give you an idea of their reach, last night I was on a MoveOn/Indivisible training/planning phone call with 25,000 participants.  Visit the Indivisible website and sign up for their action alerts.
https://www.indivisibleguide.com/  Saturday's marches infused us with energy, pride and determination.  Now, let's turn to ACTION!
Stay in Touch:
Receive email event notices — Click HERE!
Like us on Facebook to join the community of Charlevoix Dems and our lively discussions.
Click on the Calendar tab above to see our printable, downloadable, interactive calendar of meetings and events.