WELCOME to the website of the Charlevoix County Democratic Party.  We're here to help you stay informed, take action, contribute, participate in the political process, and make your voice heard.
You Asked: Donating by Check
Want to make a donation to the Charlevoix Dems?  Click Here
Local Politics
All politics are local. Local gerrymandering and extreme politics in primaries have produced the unthinkable — state and national elections that don't represent the wishes of the majority.  Get involved — you CAN make a difference. And have fun at the same time.  Call or email and we'll get back to you.  Or Click Here to let us know how you would like to help.
Special Notes:
We  need to think seriously about how increase Democratic engagement and turnout in Charlevoix County. We need to determine  how we can most effectively respond to a Trump presidency. We need your help and ideas.  We will schedule general membership meeting early in 2017 to discuss and plan steps we can take at the local level to pick ourselves up and continue to fight for our Democratic values.
The Charlevoix Dems are a strong, resilient, and committed group!  I am confident that we will continue to grow as a party while finding new and creative ways to engage more Dems in Charlevoix County.
It is starting with a whirlwind!!  The Trump era.
Are you wondering what to do next?
Some Suggestions:
1. Phone calls and emails to our Representatives.
When making calls or writing emails:
– Communicate on only one issue at a time.
– You can call/email a District or Washington office, but don't bother with both.  Only one of your communications will be tallied.
– Make your call short and polite.  Don't get into a policy discussion.  On the other hand, personal stories are powerful.
– Only contact your representatives. Members of Congress typically listen only to their constituents.  The exception to this is that members of Committees vetting Cabinet Nominees sometimes accept calls about the Nominees from non-constituents.
– Phone calls and emails have the most power to impact.  Clicking on mass petitions is not as effective as your individual communication.
– If you email from the Member of Congress email site, make a copy of your email as a record of your communication should you want to reference it later.
Phone numbers and email addresses are available on each of our Representatives websites.
2. Start your own resistance group or join an existing group. See information below.
3. Attend Town Hall meetings.  See information below.
We need a couple of people to join our Executive Committee.  This is the group that sets our direction and makes decisions about the focus of the local party.  It is a great and dedicated team and we would love to have you join us.
We are also looking for a Volunteer Coordinator. Volunteerism is the backbone and strength of the Charlevoix County Democratic Party.  Volunteers are the most important resource we have to help us accomplish our ultimate goal of electing Democrats.  The Volunteer Coordinator works to match the needs of the party with the skills and interests of volunteers.
If you are looking for a way to turn frustration and hurt from the Nov election into positive action, respond to this email or give me a call and I'll fill you in on the details.
Kris Busk, Chair
Charlevoix Dems
231-675-8752
Upcoming Events:
Check Back Soon for More Charlevoix County Dems Events
Past Events:
Marches Around the World:
Thank you to the millions of people around the world who, on January 21, came together to raise our voices. But our march forward does not end here. Now is the time to get our friends, family and community together and MAKE HISTORY.
Join us in launching a new campaign:
10 Actions for the first 100 Days.
Learn More
March in Traverse City: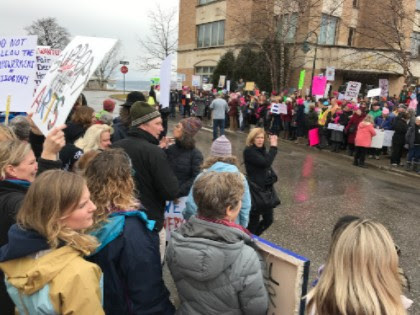 Here are a few things you can do right now to turn this energy into action.
1.  Join our Legislative Watch group.  This is an email group of Charlevoix Dems who are willing to call and/or send emails to both our State level representatives and our Federal representatives about impending legislative action.
2. If you haven't heard of the Indivisible group, check out their website.  This group was started by former congressional
aides and they provide effective, practical steps that can be taken to influence our representatives.   To give you an idea of their reach, last night I was on a MoveOn/Indivisible training/planning phone call with 25,000 participants.  Visit the Indivisible website and sign up for their action alerts.
https://www.indivisibleguide.com/  Saturday's marches infused us with energy, pride and determination.  Now, let's turn to ACTION!
Stay in Touch:
Receive email event notices — Click HERE!
Like us on Facebook to join the community of Charlevoix Dems and our lively discussions.
Click on the Calendar tab above to see our printable, downloadable, interactive calendar of meetings and events.